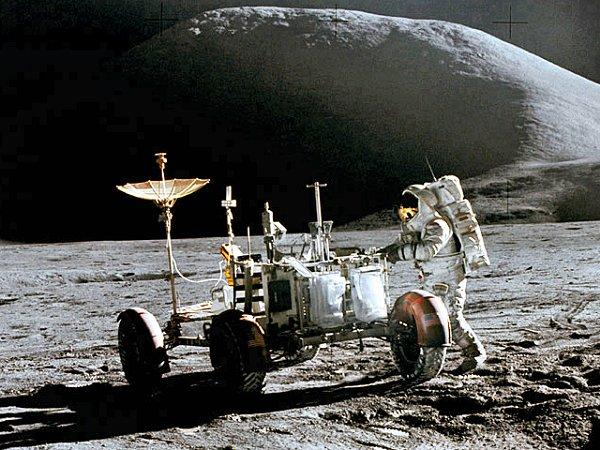 July was the 40th anniversary of the Apollo 11 moon mission and I watched this awesome documentary on the beeb, "For All Mankind". It has amazing footage of the Apollo missions and a Brian Eno soundtrack. Really inspiring stuff.
So this mix has an Apollo moon missions theme. Don't worry though, it is still as random as always, so hopefully there will be a little bit of something for everyone.
Just in case you are interested the moon rover pictured was part of the Apollo 15 mission in 1971. This mix is dedicated to all the brave men and women of NASA etc...
Tracklisting...
Two Door Cinema Club - Something Good Can Work
Thanks to Sean's Glasto playlist for this one. This is the debut single from this Northern Irish indie band.
Marc Mac feat. Preach - I'm Outta Here
From the In Between The Lines EP
Daru - Lean on Me
From the album Spirit Drumz pt.2
Ms. Dezy - Dearest Daddy
Produced by Ms One (Georgia Anne Muldrow), from the album Georgia Anne Muldrow Presents... Ms One
Sa-Ra Creative Partners - Traffika
From the album Nuclear Evolution: The Age of Love. Sa-Ra are back and on point, "drug traffika, traffika..."
Fol Chen - Winter, That's All
From the album, Part I: John Shade, Your Fortune's Made
The Juan MacLean - No Time
From the album, The Future Will Come. "I saw you dancing with the humans"
Little Dragon - Blinking Pigs
From the album, Machine Dreams, highly recommended.
My Brightest Diamond - To Pluto's Moon (Son Lux Remix)
From Shark Remixes Vol 2
Tom Trago - The New 3000
From the album, Voyage Direct on Rush Hour Records. Voyage Direct is an album of unreconstructed deep dance music, highly recommended.
Brian Eno - An Ending (Ascent)
From the album, Apollo (Atmospheres & Soundtracks)
Nosaj Thing - IOIO
Nosaj Thing is an LA based producer. Funny name but good album. From the album, Drift
Carlos Nino & Friends - 9 Moons Full
From the album, High With a Little Help From on Kindred Spirits
Dam Funk - Let's Take Off (Far Away)
12" on Stones Throw Records
Mayer Hawthorne - The Ills
From the album, A Strange Arrangement also on Stones Throw Records.
Mortonette Stephens - Magic Walk
Produced by Ms One (Georgia Anne Muldrow), from the album, Georgia Anne Muldrow Presents Ms One
Theoretical Girl - Divided
From the album, Divided
Everything Everything - Suffragette Suffragette
Is he really saying what I think he's saying? (Yes he is)
Bombay Bicyle Club - The Hill
From the album, I Had the Blues But I Shook Them Loose. They are from Crouch End and they appear to have been named after an indian restaurant chain.